To teach & introduce more people (especially kids) to what's possible with frisbee and to work on growing the sport through my involvement with organizations such as the World Flying Disc Federation (WFDF) and Flying Disc Week.
My name is Robert McLeod and I am a motivational speaker and frisbee ambassador living in Calgary, Alberta, Canada. I'm known as Frisbee Rob and have been playing frisbee since 2000.
I currently hold 6 Guinness World Records, 13 World Championships and the Canadian Distance Record.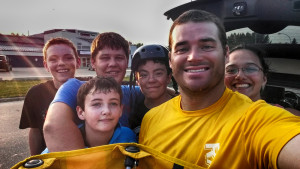 I compete in disc golf, dog disc, guts, ultimate and overall frisbee competitions. Davy Whippet was my canine teammate and together we hold the Guinness World Record for Longest Flying Disc Throw Caught by a Dog and the Guinness World Record for Flying Disc – Time Aloft, Dog. I created a children's book called The Davy Rule featuring Davy that teaches kids about acceptance, kindness and curiosity.
I have spoken to thousands of kids encouraging them to be unique and be different, to do what they love and to support others who are doing the same by sharing my bullying story and also the lessons that have helped me get through adversity and achieve some of my goals including appearing in the Guinness Book of World Records (2014 & 2015 editions) and the Ripley's Believe It Or Not! book (2015).
Frisbee is the Ageless Game.